Travelling light : a new face for American signage
How a signage became a modern typeface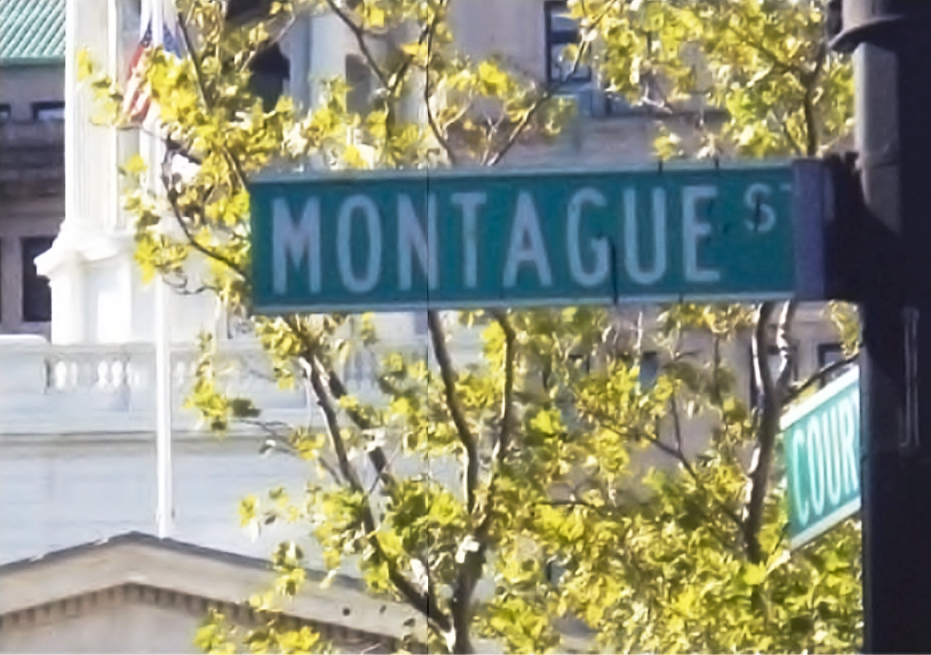 Making changes is a long process
The alphabets in use by America's Federal Highway Administration, rumoured to have been based on a stencil lettering set, had never been tested for ease of recognition. Don Meeker and James Montalbano were to find that making a change would be a long process.Street signs in New York City, and all cities through­out the United States, have been mandated by the Fed­eral Government to be of 'Mixed Case' (upper and low­ercase) by 2018, a ruling in place since 2003, but only during the past year or so in New York has there been any movement in the intended direction. As there are approximately a quarter of a million street signs in the city, and wear and tear accounts for the replacement of between 8,000 and 11,000 a year, it will probably take more than a generation before the turnaround to mixed case is completed, whatever Federal Government may say. The FHWA (Federal Highway Administration) is telling the citizens of New York and the rest of the USA that this will be beneficial to their safety, as lowercase signs take milliseconds less to read than those comprising of all capitals, and so assimilating a sign faster gets eyes back on the road – where they should be.
That's the first of two factors in the change of street signs in New York; the second and equally notable is the use of the sanserif font Clearview, developed over more than 15 years by graphic designer and environmentalist Don Meeker of Portland, Oregon and type designer James Montalbano of Brooklyn, New York. Clearview is replac­ing the regular and recognisable 'Highway Gothic' style, formally known as the FHWA series of fonts, which have been the federal highway standard set of alphabets for highway signage since the mid-1940s. These are a set of seven fonts labelled from A to F with a few in between, which have been tinkered with and augmented up to the turn of the twenty-first century. The FHWA series were created by engineers, and as James Montalbano has pointed out, 'the original FHWA alphabets were never tested. No research on them exists, so with Clearview it's the first time in the nation's history that anyone has applied the principles of cognative psychology to design for the American highway'. New York's Transportation Commissioner Janette Sadik Khan has stated: 'whether through our signs, markings or sidewalks, we are bringing clarity and simplicity to street design'. Montalbano adds: 'Street design involves more than a new legible typeface, it also needs the orderly arrangement of the streetscape.'
Unlike the origins of the FHWA alphabets from nearly 70 years ago, and rumoured to be based directly on the mechanical forms of a Leroy Lettering Set, a basic set of stencil templates of laminated plastic, the genesis of the Clearview fonts are founded on the frustrations and concerns of Don Meeker. In the late 1980s he was work­ing with the Army Corps of Engineers making warning signs, among others, for rivers and waterways. One of the major concerns were the 'danger times', critically identi­fied as half an hour each side of dawn and dusk – over 200 people were drowning every year, arguably due to poor signage. The solution was primarily brighter surface signs, but his next project, signage for the scenic roads and byways of Oregon, was to unclutter and clarify informa­tion then being transmitted by the FHWA highway fonts.
At the same time, the Federal Highway Administra­tion were facing two major problems: firstly the blurring of signs by the increasing brightness of headlights reflect­ing on them, identified as 'overglow' or halation', and the incremental deterioration of the eyesight of older drivers, estimated conservatively as 20% of the population. The government signmakers and engineers' proposed solu­tion was to increase the size of the letters, coincidentally by 20%, but this would have had enormous financial and environmental consequences. Taller and wider, the signs would need resiting and strengthening, and the height of overpasses would need to be greater.
To Meeker these two concerns seemed closely related and although he wasn't working for the FHWA, his involvement with, and experience of the problems associ­ated with road signs in Oregon developed into an obses­sion – to eradicate the halation, and to design an alphabet that would be best suited for maximum legibility, particu­larly at night, whether for long or short distance driving. Up until then the quality and interpretation of 'legibility' was a foreign concept to the government agencies and engineers, unquestioningly using the standard highway alphabets and materials for road signs throughout the country. Research soon highlighted the FHWA series, Highway Gothic, as the prime cause of the legibility prob­lem. Tests and comparisons were made with other devel­oped signage alphabets, principally from Europe, such Univers, Din and British Transport. But as Meeker said at the time in 1992: 'There was something wrong with each one. Nothing gave us the legibility we were looking for.'
A year later, without funding but having highway research facilities available from the Pennsylvania Trans­portation Institute and with the involvement of 3M, the major manufacturer of reflective materials for signs, Meeker and his colleagues began adapting Highway Gothic, attempting to improve distance legibility pri­marily by opening up the counters and making stroke weights visually consistent. The tests were successful, to the extent of a measurable 16% improvement in simu­lated night time tests at 60mph. The Texas Transporta­tion Institute got wind of the new research and asked for computer discs of the budding Clearview fonts. 'We were onto something,' acknowledged Meeker, 'but it was still too raw. We needed some polish.'
For a solution, Meeker set out to find a designer with the skill and dedication to match his own. James Montalbano of Brooklyn was recommended, so in 1995 they met to discuss the current state of Clearview, and Montalbano recalls at their first meeting, he observed the letters were uneven, wobbly, and in his opinion, badly drawn, which would always be an impediment to legibility. Meeker took this all on board, and their collabo­ration began, first to restructure and balance the integral weights and overhaul the letterforms under Montal-bano's guidance, setting Clearview on the road to clarity.
James Montalbano's professional career started as a public graphic arts school teacher, and following an interval for further education, he studied lettering with Ed Benguiat and then worked as a magazine art director. Since 1990 he has been the principal of Terminal Design Inc, specialising in typeface design, font development and digital lettering. As such, he has created images and fonts for corporate, government and publishing bodies, and has also developed an outstanding range of commercial licensable fonts which, as far as can be judged, are not derivative of any existing or previous historical styles. So no Caslons, Bodonis or Garamonds, which in an extensive body of work is unusual, if not unique.
Montalbano provided the vital link in the chain for the assembled group of professionals to progress effec­tively with Clearview. Crucial to the project was the tech­nical support from Martin Pietrucha and Phil Garvey from Penn State, and the (now retired) director of the Pennsylvania Department of Transportation, Art Brene­man. Knowing his way around the system he was most responsible, according to Montalbano, for the FHWA granting Clearview 'experimental status'. But it wasn't smooth running. Meeker observed of their various pres­entations to official bodies: 'We'd go in excited and leave thinking, why did we even bother?'
But a breakthrough came just as inertia was setting in. Meeker and Montalbano were commissioned in 1998 to give a visual identity to signage of the National Park Service. Montalbano drew a contemporary serif font, where during a series of legibility tests for distance view­ing, the lowercase x-height became taller by increments in relation to the static capitals, until the x-height was in the region of 75 to 80% of the capitals. The Park font, named Rawlinson in honour of Montalbano's father-in-law who had worked for the forest service, was seen as sufficiently beneficial for legibility and at the same time taking 15% less space than the formerly-used Clarendon. This economy could be approximated in financial terms, a very welcome bonus for the new identity.
Once the results were in for Rawlinson, Montalbano realised that Clearview could benefit from the same treat­ment. So in spring 2002 they funded a demonstration for the FHWA plus selected state transportation representa­tives, with new comparisons made between Highway Gothic and Clearview, which now had an 80% relation­ship of lowercase to capitals but without a substantial increases in the lowercase letter widths. The legibility results were dramatic, with a 30% increase in ability to visualise Clearview in comparison to Highway Gothic. This was described as the 'Golden Key' for sanctioning Clearview in November 2002 by the FHWA's Manual of Uniform Traffic Devices as an 'approved alternative', lead­ing to national adoption in September 2004. Art Brene­man stated: 'Clearview is the most important develop­ment in highway engineering in 30 years.'
The Clearview Highway family has evolved into six weights, which includes narrower or condensed styles, which are predominately adapted for street signage such as New York's. There are in reality two sets of the six fonts for Clearview Highway, one set designed for use on a dark background and the equivalent set of fonts designed with modifications for visual parity when black or a darker col­our is to be used on a light or white background. This has yet to be given final legibility approval by the FHWA. This is curious in the light of studies from individual states such as Kansas and Texas, and the Department of Transportation's detailed and analytical comments, which are summed up in their introductory paragraph. 'The Clearview fonts allow agencies to meet the needs of the older drivers to the legibility of guide signs, without any increase in the size or cost of the signs.' The wheels of federal government grind very slowly.
As well as the increased legibility and greater ease of character recognition, there are two other elements that have evolved during the development of Clearview High­way, both emanating from Don Meeker's original quest. The first, letterspacing, is one of those subliminal factors that when understood is as critical as the design of the let­terforms. The original Gothic Highway fonts, while keep­ing up with technological innovations, still do not have a built-in spacing system. According to Montalbano, 'most of the time, a printed spacing table accompanied the Gothic Highway fonts and you had to move each letter via tracking to get it in position'. Now with built-in spac­ing and kerning guides embedded in the fonts, Clearview allows sign engineers and sign manufacturers to prepare precisely spaced layouts and template cutting files with­out having to reference separate guides or tables. 'When I tell engineers who have been working with Highway Gothic for thirty years that the spacing is already in the font and all they have to do is input the words via the keyboard, they don't believe me, and ask for the spacing tables. It's sometimes a long conversation, but usually I'm successful in convincing them that spacing is already keyed in,' says Montalbano.
The second factor to come out of the implementation of Clearview Highway is the technical improvement of reflective signage material, which was evaluated in per­formance with Clearview Highway. The US Department of Transportation, Federal Highway Administration, in regard of negative contrast traffic signs states that 'it is rec­ommended to use Clearview 5-W-R in combination with type 4 retro-reflective sheeting, as it showed the most con­sistent performance compared to all other combination of fonts and materials'. This must be highly satisfying for Don Meeker, and also for the ever growing number of senior citizens, driving purposefully in the middle of the night, or just for the fun of it, across the 47,381 miles of Interstate Highways.
In New York, a new reflective surface, 'microprismatic sheeting' is in use for the first time. 'Microprismatic is a reflective substance made up of thousands of small prisms that reflect back to a focus point and it's really quite amaz­ing,' explains Montalbano. 'I was at a night-time test and sitting in the front seat of a car, and I could see the reflec­tive legends clearly. Step out and stand directly against the driver's side, and the sign was almost invisible.'
During the periods when Clearview languished for want of immediate federal response, he decided that the qualities and general contemporary nature of the slightly squarish monoline sanserif that he was creating for the highways and byways would make 'a readable typeface'. Thoughts like these can eventually take over your life, and he ended up with a family of text and headline fonts – with a properly proportioned lower case – amounting to 48 versions, spanning Extra Thin to Black, with Regular, Condensed and Compressed widths, comprising of the full international set of characters in Open Type format.
Talking about the development of Clearview High­way and its design principles, Montalbano explained: 'I discovered that it was easier to make a signage typeface from a text design than from a display design. At first look, you would think that signage and display typog­raphy would share similar principles, namely that they are both big. But in fact, reading a road sign 600 ft down the highway is more like reading text than it is an ad in a magazine. Sign type, like its text cousin, needs to be beefy and strong to hold up to the halation, atmospheric disturbances and distance. A finely-wrought display face would fall apart under the circumstances.'
In 2006 Clearview text became the font of choice, in place of Gill Sans, for telecommunications giant AT&T, projecting 'a more welcoming and transparent image', according to Senior Vice-President of Advertising Wendy Clark. In the UK, the Clearview text family became the style for the weekly trade paper Insurance Times.
There are still tests pending for the full implementa­tion of Clearview Highway by the FHWA for black on signs with a light background. Expectations are high for approval in the near future – or maybe a little further down the line. Currently, Clearview has been adopted by 36 American states from Texas in the south to Alaska in the north, and Canada's highways and cities, from Van­couver in the west to Toronto in the east, have adopted Clearview for their own.
The Philippines, Columbia, Israel and Singapore are using Latin alphabet versions of Clearview on their roads, with Greek and Cyrillic being tested in their respective language locations. So if you do get to New York and take note of the Clearview street signs, you will be aware of the silent revolution of type design and implementation that has travelled from Portland, Oregon, the hometown of Don Meeker to the brownstone of James Montalbano in Brooklyn, New York. A driving distance of 2,895 miles, and Clearview all the way.  ­­